What ever happened to the Hunting Show? It seems like everywhere you look it's "Reality" television... Well, Excalibur's Huntin' the Backwoods is putting the real back in outdoor televsion.
Every week real people with real lives hit the woods and hunt. Hosts Dan Wallace and Karl Metzler and the rest of the Backwoods Boys invite you along for the hunt each week. It's 30 minutes of no-nonsense, real hunting in the Backwoods of North America and beyond.
The Hunting Show is alive and well... Learn More...
This Week on Excalibur's Huntin' the Backwoods
The Other White Meat -
Friday 7:00 PM
It's been a long, cold winter in Ohio and Dan, Shawn, and Troy have had their fill. So they load up the truck and make the long haul south to the sunshine state where they'll be hunting wild pigs with Matt Cates at Triple M Outfitters Unlimited. Troy has never hunted pigs, and he's not sure what to expect, but it doesn't take long for him to become a true believer. Then Shawn swipes the Excalibur Crossbow from Troy to try his luck on Florida hogs. Later, it becomes pure chaos as the boys chase pigs all over the ranches of central Florida.

Friday 7:00 PM
Monday 3:30 AM
Thursday 3:30 PM
Friday 8:00 AM

View Full Schedule
This Week's Outfitter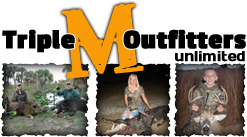 Triple M Outfitters
Learn more about Triple M Outfitters or book your own hunt at Triple M Outfitters

BackwoodsTV features hundreds of high-quality hunting videos available anytime. Stream full-length hunts from Excalibur's Huntin' the Backwoods on your terms. You can watch whitetail hunts, bear hunts, moose hunts, turkey hunts, and much more whenever you like. And, it's completely free.