News From The Backwoods
Team Backwoods · December, 2010

We Made It To The Finals!

Vote For Us in the 2010 Sportsman Choice Awards

Excalibur's Huntin' the Backwoods Television Show has been announced as a finalist for Best Hunting Show and Best Show Host in the 2010 Sportsman Choice Awards. We need your help to bring the award home!

Log on to www.votesportsman.com and cast your vote for Excalibur's Huntin' the Backwoods as Best Hunting Show and for Dan Wallace as Best Show Host

We appreciate your support!

Outfitter Spotlight

Black Bear Adventures at Dog Lake Resort

It should come as no suprise that we love Black Bear Adventures at Dog Lake Resort. Incredible bear hunting, first-class accomodations, hard-working, professional guides... what's not to love. So it shouldn't suprise you to hear that we've booked our 2011 Fall Bear hunt at Dog Lake Resort already!

Why Not Join Us?
Come along and find out why we love this place. Visit the website and book your fall hunt early. Who knows, we may just jump in behind you with the cameras!

Tell 'em the Backwoods Boys Sent Ya...

The Backwoods Whitetail Season Report
Halloween Weekend - Three Bucks. One Day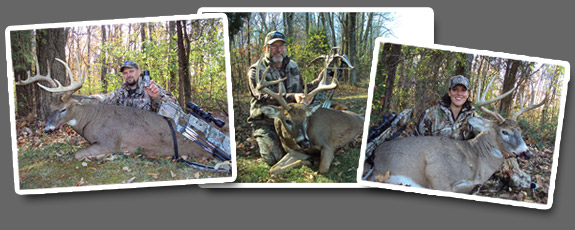 Halloween weekend in Ohio has always been good to Team Backwoods, but this year was exceptionally good. Three bucks in one day will make anyone's day!
It all started about an hour into the morning hunt, when Bill and Amber Goodin scored on a nice Ohio 8-point. A short 30 minutes later, Karl Metzler had a beautiful Ohio stud in his sights and on the ground. Not to be outdone, Bill Troubridge, president of Excalibur Crossbows took to the trees that evening, and brought home the third nice Ohio buck of the day.

At a loss for the perfect gift this year? Well, maybe this will get you started

If you're looking for the right gift this holiday season - for your spouse, your huntin' buddies, or even just for yourself - we've got a few suggestions that might get you on the right track. This way you can spend less time shopping, and more time hunting...

Woods Wise Game Calls

Give the gift of Game Calls this holiday season. For a limited time, get special pricing on select deer and turkey calls, or get the new Woods Wise DVD with the purchase of a Super Hot Ma-Mah

Bear Hunting Magazine

Get a 1-year subscription for just $15! BHM has teamed up with Team Backwoods to bring this special holiday offer. Use promo code TB15 to receive this special offer. Valid through 12/31

Outdoor Edge Swing Blade

The SwingBlade changes from a drop-point skinner to the ultimate blade to open game like a zipper with a simple push of a lock button, making it the ideal knife for every hunter.

Win, Grin, and Bear It Winners Announced!

Congratulations to all of our winners, and thank you for registering!

We're already making plans for the 2011 Exmark Win, Grin, and Bear It Sweepstakes, so keep an eye out for upcoming Backwoods Blasts so you can get registered to win next year!

Wanna Join Us On a Spring Bear Hunt?

Log on to www.bearpawoutfitters.ca and tell them you want to join us Bear Paw Outfitters for the Win, Grin, and Bear It spring bear hunt.

The 2010 Exmark Win, Grin, and Bear It Sweepstakes winners have been announced and the lucky winners are:

Featured Videos on BackwoodsTV

Jerry Puts the Darton Pro 3800 to Work

Jerry Niffenegger heads into the woods right in the middle of the rut...
Watch Now

Back in the Woods for an Early Season Whitetail Hunt

See why Excalibur President Bill Troubridge loves Ohio deer hunting.
Watch Now

Get To Know Excalibur Crossbows

Take a peak behind the makers of the world's most accurate hunting crossbow
Watch Now

Win, Grin, and Bear It

Coming Back Soon

Make sure you check back in at BackwoodsTV in January when we begin registration for the 2011 Exmark Mowers Win, Grin, and Bear It Sweepstakes.

This year, we're giving away another fully outfitted Bear Hunt at the Hillsport Hillton in Ontario, as well as an Exmark Zero Turn Mower, Hunting Packages, and a whole lot more.

Follow the Backwoods Boys on Facebook

Keep up-to-date with all the latest happenings by joining Excalibur's Huntin' the Backwoods on Facebook.